Welcome to

Taro-Hanako Family
  JAPANESE  CHINESE  KOREAN  FRENCH  GERMAN  SPANISH  ITALIAN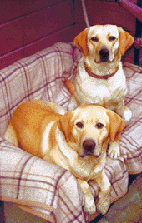 Taro and Hanako
independence dog
Welcome !  You are No.
Visitor ( since '96.11.4 )
The Heart of Japanese.
The anatomy of dependence"AMAE"
Ugly Japanese, Ugly Americans.
foreign residents in Japan Wow ! Gaijin !
SHIKITARI UnfoldingJapanese Tradition. 
 Hakuju and Sanae
An Interresting Item recommended
by Taro-Hana Family
Armor,Swords,Antique Mitaka-Kacchudo
Hina, Warrior dolls Kougetsu-Ningyouten
Green tea wholesale store, Kaburagien
Dream like rice wine "KASEN"
 Tamura Brewery  
 To Present for you
 A FORGET-ME-NOT

 The Colour of London
 Manchurian Dream
 The Pioneer in the Ethology

Taro is laid back and Hanako is restless, and they are loving dog and wife. They met each other in a match making date, and they were engaged, then Hanako started living with her future husband and got pregnant in six months, which was one year before their official marriage. So, they advanced the date of their marriage, and gave birth to seven puppies, then one year later eight more puppies, and now there are more than forty offsprings from family. She is active as a working dog, and is loved as a house pet, and a champion was produced from among her offsprings, which makes her proud of herself.
Hakuju is laid back and Sanae is restless, and they are also a loving man and wife. As the guarantors of Taro and Hanako, they are at their poor wits' end as to how to provide more freedom to Taro Hanako.
I, Hakuju is a clinical psychologist and a consultant, but as the executive committee chairman of Tama IndependenceDog Association, I am also making my efforts to enhance the activities of the association.
Sanae loves theatrical performances so much that her networking effort, She can advise the way to obtain the tickets for performances of world famous performance groups such as Kabuki, Takarazuka Review, Shiki, and so on. Also, she is able to obtain the tickets for not only London and New York but any venues in the world, and people seem to appreciate the handiness of her services.
Fixed point observation

    Link,Linklin !    

 

Taro-Hana Family's Living room
 You can see different scenes a day 

Click Here !
---
Theatregoers
Dog lovers
Culture